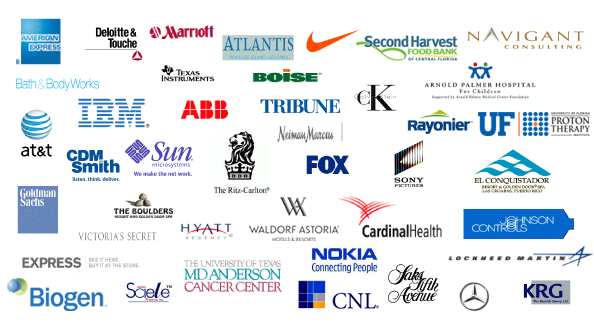 The following is a list of our clients:
American Automobile Assoc.
American Express
Atlantis Resort, Bahamas
ABB, Canada
ABB, Czech Republic
ABB, Denmark
ABB, England
ABB, Finland
ABB, Germany
ABB, Mexico
ABB, Norway
ABB, Spain
ABB, Sweden
Arnold Palmer Hospital
AT&T
Bath & Body Works
Baxter Healthcare Systems
Biogen
Bionest Partners
Boise Cascade
Brown and Caldwell
Brown & Root
Busch Entertainment Corp.
CDM Smith
Cardinal Health
CNL
CompuServe
Deloitte & Touche
El Conquistador, San Juan
El San Juan Hotel
Ernst & Young
Express
Fox Broadcasting Group
Foxboro Company
GTE
Hilton
Holland & Knight
Holy Cross Hospital
Home Shopping Network
Hyatt Regency Hotels
IBM
Johnson Controls, Inc.
The Limited
Lockheed Martin

Lodge of the Four Seasons
Los Angeles Master Chorale
Lowndes, Drosdick, Doster, Kantor & Reed
Marriott Hotels
M.D. Anderson Cancer Center
Museum of Science and History
Neiman Marcus
Newcome Electronics
Nike, Inc.
Nokia, Finland
Oregon Department of Education
Pentacore Engineering
Post, Buckley, Shuh & Jernigan
Quail Lodge & Resort, Pebble Beach
Rayonier
The Ritz-Carlton Hotel Company
The Ryman Carroll Foundation
Saks Fifth Avenue
Society of Women Engineers
Sony Pictures
Solvay Pharmaceuticals
Florida Judicial System
New York Governor's Office
Second Harvest Food Bank
Structure
Sun Microsystems
SunTrust
Takeda
Texas Instruments
Tupperware
Union Carbide
University of Central Florida
University of Florida Medical School
University of Florida Proton Therapy Institute
Urban Land Institute
Vertex Pharmaceuticals
Victoria's Secret
Virtuoso
The Waldorf Astoria, New York
Walt Disney World
Westin Hotels
W H Smith
William Mercer, Inc.
"The most notable trait of great leaders is their quest for learning . they are open to people and ideas even at a time in life when they might reasonably think - because of their successes - that they know everything." John Kotter