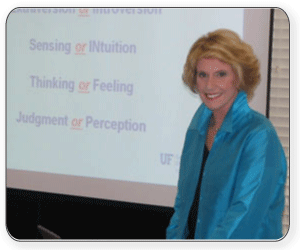 Gae Walters, PhD
Gae Walters, PhD is an organizational psychologist and executive coach with expertise in leadership development, team effectiveness, and behavioral sciences.
By incorporating behavioral psychology and organizational research, Gae has built a worldwide reputation for delivering training programs and consultation services. Gae's clients include ABB, Goldman Sachs, Nike, Neiman Marcus, IBM, Johnson Controls, University of Florida Medical School, Virtuoso, Victoria's Secret, Biogen, and the New York Governor's Office. The Ritz Carlton Hotel Company, Saks Fifth Avenue, the Waldorf Astoria, Atlantis Resort, Bahamas, Lockheed Martin, Biogen, Walt Disney Imagineering, Solvay Pharmaceuticals, and the M.D. Anderson Cancer Center have also incorporated Gae's programs into their leadership development curriculum.
Ms. Walters completed her undergraduate degree summa cum laude at the University of Florida and upon completion of her Master's Degree in Behavioral Science and postgraduate studies in the field of psychological assessment and research, became a licensed psychologist in the state of Florida. She earned her Ph.D. in Organizational Leadership from The Chicago School of Professional Psychology.
As a member of the Rollins College Graduate School faculty, she worked with organizations and leaders throughout the United States. Gae became the Vice President of Organizational Development for the Ritz-Carlton Hotel Company, for whom she still consults and conducts leadership training. She also serves on the faculty of the University of Florida's division of Executive Education.
Ms. Walters was Chairman of the Board for the Center for Psychological Type, a non-profit organization whose mission is to teach the ethical applications of Carl Jung's theory of psychological types and where she serves as a faculty member. She is a member of the Board of Directors for CDM Smith, a consulting, engineering, construction, and operations firm based in Boston, MA.
Ms. Walters has worked in Sweden, Denmark, Norway, France, Switzerland, Germany, the United Kingdom, the Czech Republic, Japan, the Americas, and the Caribbean. She lived in Japan for three years and France for three years applies her own cross-cultural knowledge to the critical issues that face cross-cultural and multi-national organizations.
"Contrary to the opinion of many people, leaders are not born. Leaders are made, and they are made by effort and hard work." Vince Lombardi